Stainless Steel Bell-Shaped Whistling Kettle (1 - 2 L)
Regular price
Sale price
$55.18 USD
Unit price
per
Introducing our elegant Stainless Steel Bell-Shaped Whistling Kettle, a stylish and functional addition to your kitchen that brings both charm and convenience to your tea-making ritual. Crafted from high-quality 304 Stainless Steel, this stunning kettle boasts excellent resistance to corrosion, ensuring long-lasting durability and performance.
Our bell-shaped whistling kettle is available in three luxurious colors: copper, gold, and silver. These exquisite finishes add a touch of sophistication and glamour to your kitchen, making it an eye-catching centerpiece that's sure to impress your guests.
Designed with your needs in mind, our Stainless Steel Bell-Shaped Whistling Kettle comes in three convenient sizes: 1 L, 1.5 L, and 2 L. These options cater to a range of needs, whether you're brewing a single cup of tea or entertaining a group of friends. The kettle's unique bell shape not only adds visual appeal but also ensures even heat distribution for a perfectly brewed cup of tea every time.
One of the standout features of our whistling kettle is its audible whistle, which signals when the water has reached boiling point. This charming detail allows you to focus on other tasks while your water heats up, providing peace of mind and ensuring your water is always the perfect temperature for steeping your favorite tea.
To use our Stainless Steel Bell-Shaped Whistling Kettle, simply fill it with water, place it on your stovetop, and wait for the gentle whistle to announce that it's time to pour. The kettle's ergonomic handle ensures a comfortable grip and easy pouring, while its heat-resistant knob protects your fingers from the heat.
Upgrade your tea experience with our Stainless Steel Bell-Shaped Whistling Kettle, a stunning fusion of form and function that will elevate your daily tea ritual and bring a touch of refinement to your kitchen.
This product is eligible for Free Shipping!
Share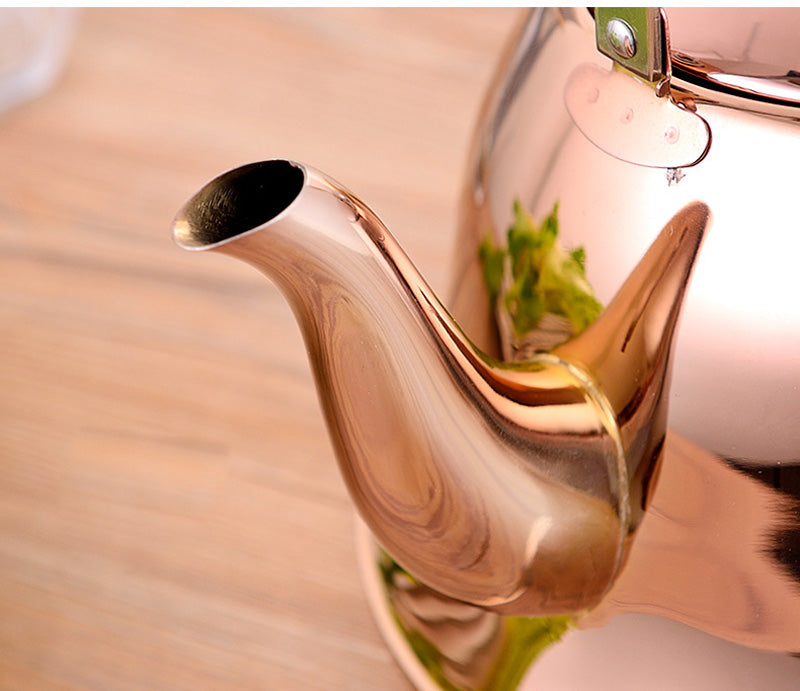 Stainless Steel Bell-Shaped Whistling Kettle (1 - 2 L)
Choosing a selection results in a full page refresh.