Dracula's Blend (Limited Time Only)
Regular price
Sale price
$3.99 USD
Unit price
per
"I vant to drink some tea!" This hibiscus, spice, and citrus blend may look spooky, but the taste is very soothing! Limited time only!
Ingredients: Hibiscus petals, Ginger, Tulsi (Holy Basil), Cinnamon, Anise, Orange + Apple pieces, Star Anise, Pink peppercorns, Safflower petals, Natural flavors.
Origin: Egypt (Nile River Delta, Fayoum), Thailand (Sing Buri), India (Kerala), Egypt (Nile River Delta), Turkey (Anatolya), China (Yunnan).
Allergens: Manufactured in a facility which processes tree nuts and derivatives of tree nuts; almonds; coconut; hazelnut; walnut; milk, dairy, and derivatives of dairy; soybeans and derivatives of soybeans; soy lecithin; and sulfur dioxide and sulfites at concentrations of more than 10mg/kg
A Tea Sommelier's Tasting Notes
Dry leaf:
I love the look with the bright red pepper, it is the perfect red for a Dracula tea!  Powdery and tangy aroma, faint citrus aroma.
Infused leaf:
Perfect look!  Very ghoulish, creepy, and scary! Ha, ha, ha!  The red pepper looked like blood droplets and the hibiscus looked like tiny claws!  The aroma was a powdery tangy pink sweet tart aroma.
Liquor/mouth feel:
The light red/deep pink color in the cup is perfect! Ha, ha, ha!  It had a thin mouth feel, and a tangy taste.
Hot:
Thin mouth feel and the tangy taste has a slight peppery finish.
Cold:
Great iced!  It is a tangy, peppery and cinnamon taste.
Share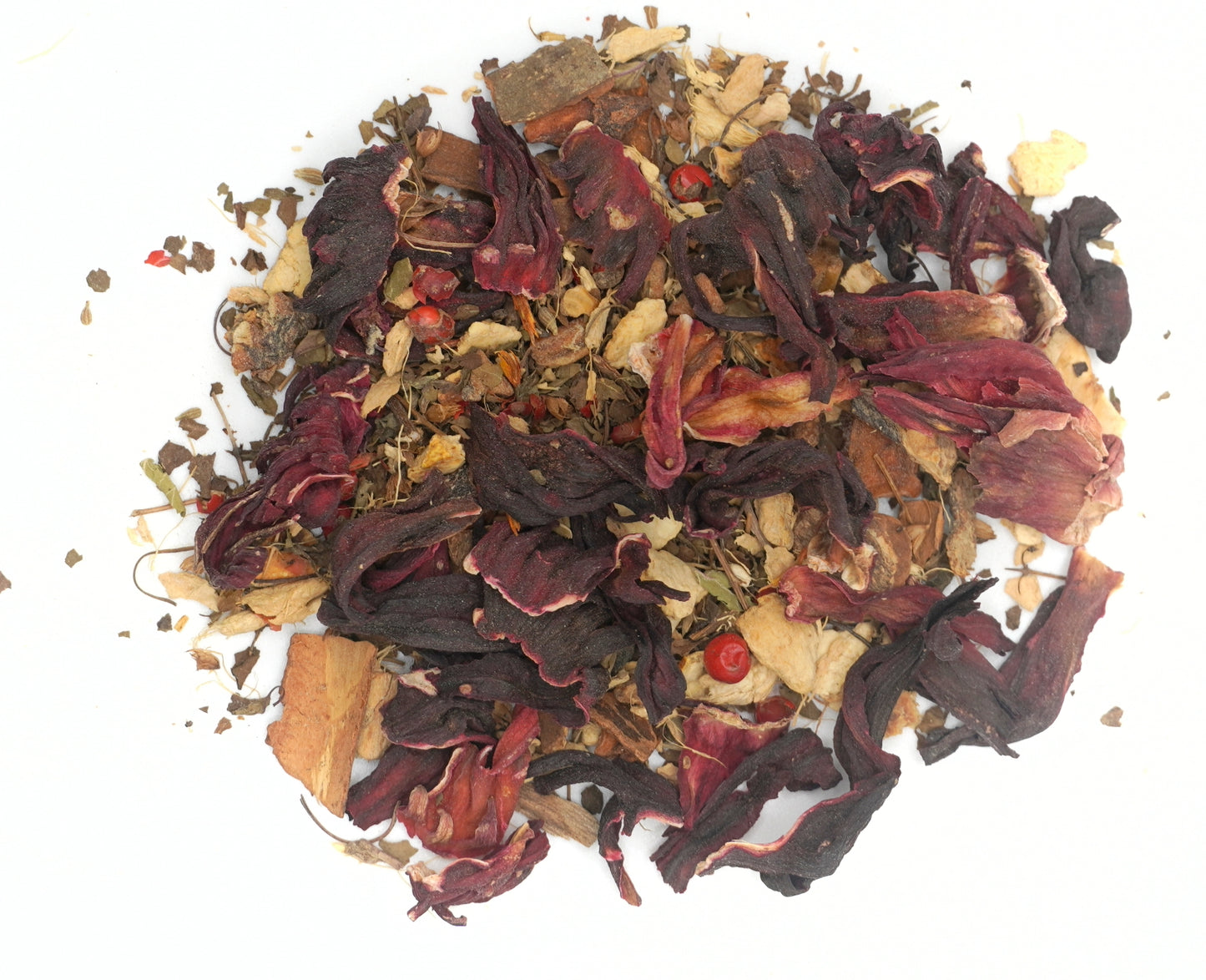 Loved it
I'm usually luke warm to tangy teas, but the star of anise added really rounds the flavors out
Choosing a selection results in a full page refresh.